HDPE Lens Module for thermal imaging sensor
This product is a HDPE lens module for thermal imaging developed by FresnelFactory.
This developed lens module is provided as a prototype and free of charge if you intend to apply it to your thermal imaging sensor.
We will replace it free of charge if an improved lens is being developed for the end of this year.
Thermal imaging cameras are used in various fields such as security, safety, autonomous driving, and smart factories. 
Recently, as the awareness of thermal imaging cameras has increased, the demand for thermal imaging cameras is increasing worldwode.
Most of the thermal imaging cameras currently use ZnSe lenses. ZnSe material has suitable properties as a thermal imaging camera lens, but there are problems such as high price and bulkiness of the lens composition. Therefore, FresnelFactory is trying to meet the increasing demand of the thermal imaging camera market by developing and supplying a fresnel lens made of HDPE material which is cheaper, smaller and lighter than ZnSe material.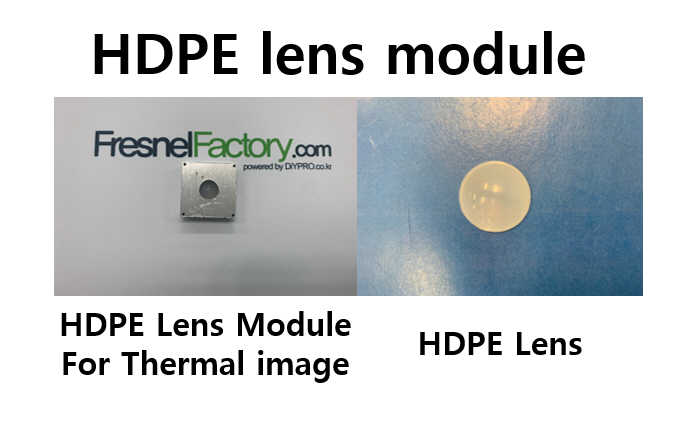 This developed lens module is made for FLIR Boson320 camera, and if you tell us the size of your camera, we will process it according to the size and provide it.
HDPE Lens module Specification

-

Dimension

Unit

Manufacturer

FresnelFactory.Inc

-

Design wavelength

9~14

um

Material

HDPE

-

Transmittance

45

%

FOV

20

°

Size

-

mm

Diameter

5

mm

Focal length

8

mm