A Projector Enlarging Images
We received a request. A client want us to make a enclosure that enlarge the size of image from Ø10mm to about 1m, 2~3m in distance.
The principle is the same as the OHP projector that was widely used in schools and churches in the past.
It outspreads the light from its source to image evenly, the second lens re-collects this light and give it to the third lens.
Then, the third lens does play to enlarge the images.
Ø10mm

의 이미지를 2~3m 떨어진 거리에서 1m 정도의 크기로 확대시켜 주는 기구물을 만들어 달라는 의뢰가 들어왔습니다.

 
원리는 예전에 학교나 교회에서 많이 사용하던 OHP투영기와 동일합니다.

광언에서 나온 빛을 1차 렌즈에서 이미지에 고르게 펼쳐주고 2차 렌즈는 이 빛을 다시 모아 3차 렌즈로 보내주면 3차 렌즈는 이미지를 확대시켜 주는 것입니다.
This is power LED used for test. Since the SMPS has a fan, so I attached LED to the cooler without using a separate heat sink.
I sometimes do like this, because fixing to heat sink is cumbersome and asking thermal compound.
테스트에 사용된 파워 LED입니다. SMPS에 팬이 달려 있길래 별도의 히트싱크 사용하지 않고 쿨러에 LED를 부착하여 쿨링하였습니다.
히트싱크에 고정하는것도 번거롭고 서멀콤파운드 묻는것도 싫어서 종종 사용하는 방법입니다.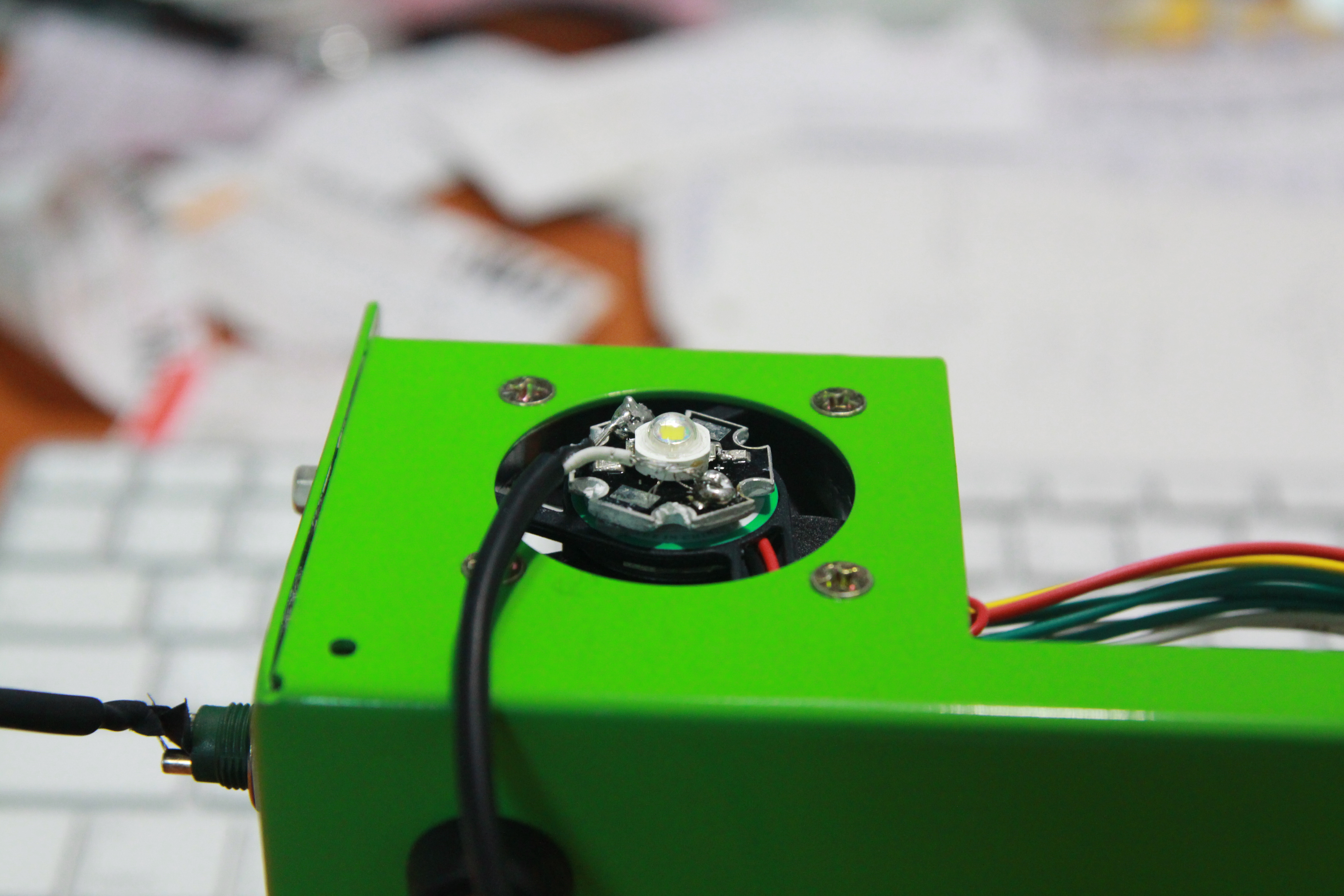 Below are the images shows you the LED used. If you compare with the hand next to, you could know the approximate size.
(아래는 사용한 이미지입니다. 옆에 있는 손과 비교하시면 대략적인 크기는 아실 수 있을듯 합니다.)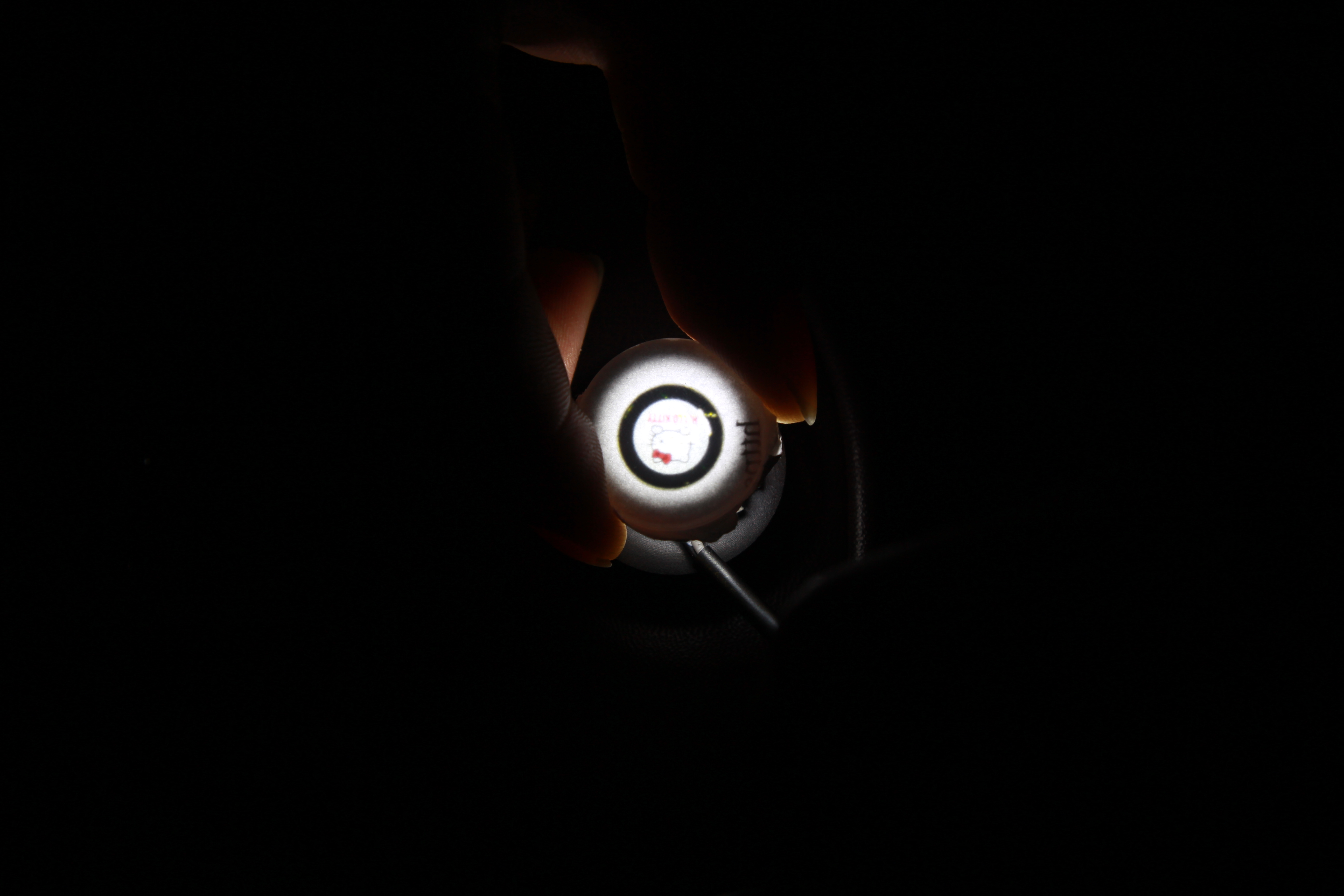 We tested fresnel lens and general spherical lens, and below would be made using fresnel lens.
In fact, fresnel lens is not suitable for image becase its surface that circumflexs light is not consecutive.
It does not matter to use the first and the second lens before it pass through the image.
However, break of lens would appear when you apply fresnel lens to the third lens after it pass through the image.

프레넬렌즈와 일반구면렌즈를 이용하여 테스트하였고 아래는 프레넬렌즈를 이용하여 만들었을 경우입니다.
사실 프레넬렌즈는 빛을 굴절시켜주는 면이 연속적이지 않아 이미지용으로는 적당하지 않습니다.
이미지를 통과하기전 1, 2차렌즈에 사용하는 것은 상관없지만 이미지를 통과한 후 사용되는 3차 렌즈에 프레넬렌즈를 적용할 경우, 사진과 같이 렌즈의 골이 나타날 수 있습니다.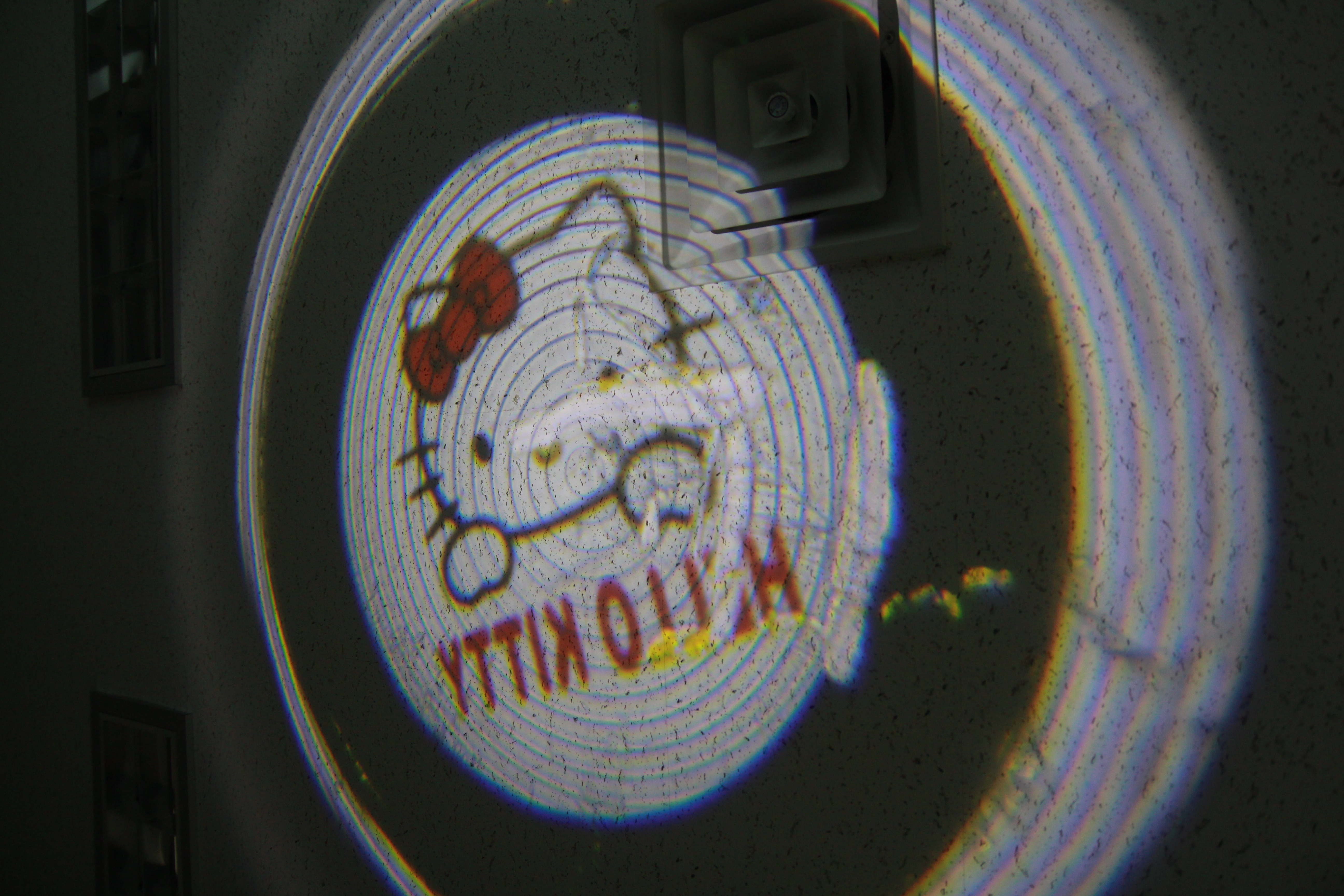 The third lens was changed to the convex.
There are no diffrence in intensity and clarity, but the break of lens diappears and the image become much more clear.
This is what projected from the floor to the ceilling at about 3m away, and the size was Ø1m.
3차 렌즈를 볼록렌즈로 변경한 사진입니다. 프레넬렌즈와 조도와 선명도에서는 차이가 없지만 렌즈의 골이 사라지며 이미지가 훨씬 깨끗해졌습니다.
바닥에서 천장면에 투사한 것으로 약 3m거리에서 투사되었고 이미지는 Ø1m의 크기였습니다.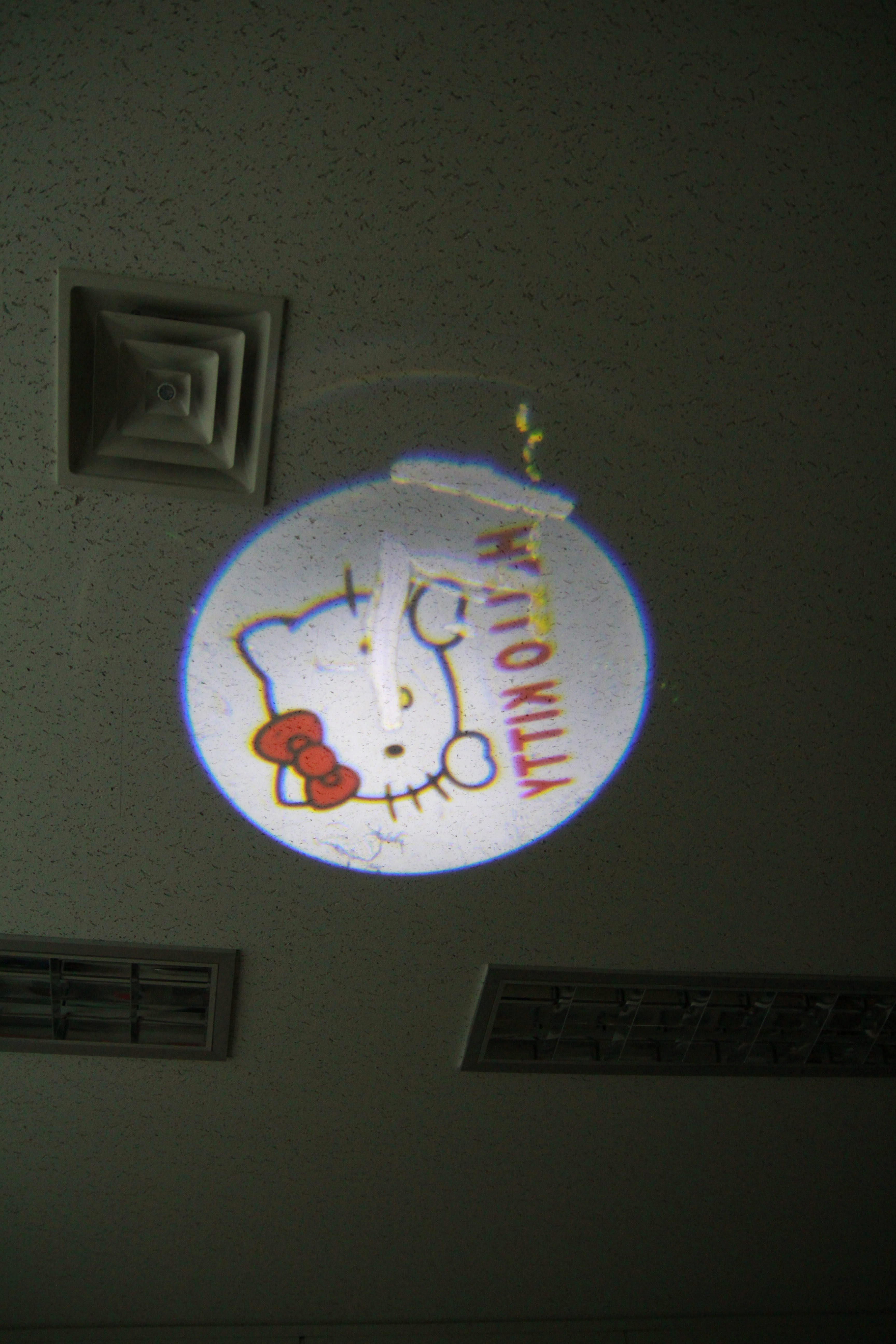 Similarly, we made the product which projects images in the floor installing at streetlight as university students start-up items, and it proceeded to commercialization.
I hope that there would be a good news about this product soon.
예전에 이와 유사하게 대학생창업아이템으로 가로등에 설치하여 바닥면에 이미지가 투영되는 제품 개발을 의뢰받아 상품화까지 진행이 되었는데
이번 개발 제품 또한 조만간 좋은 소식이 있었으면 합니다.
DIYPRO is a professional company that specializes in the design and delivery of various optical lens solution.
We provide one-stop solutions from design to production, import and produce front surface mirror that is distortion-free and 92-98% high reflectivity.